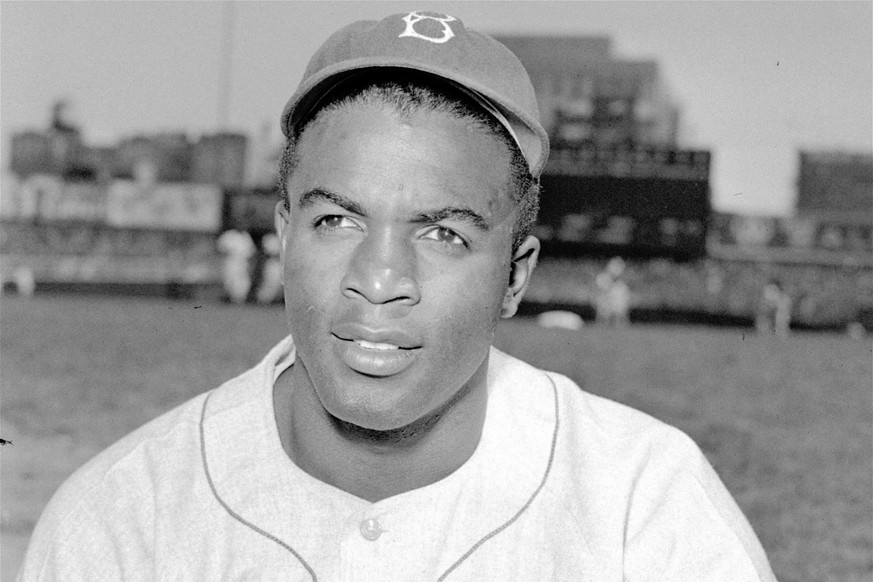 Jackie Robinson wearing a Brooklyn Dodgers cap in 1948.Photo: Keystone
unforgettable
April 15, 1947: 28-year-old Jackie Robinson makes his Major League Baseball debut. In doing so, he breaks the color barrier and becomes an icon.
15/04/2021, 00:0116/04/2021, 06:33
In July 1887, Moses Fleetwood Walker, the last black player in the US major league baseball for a long time, was forced to leave the field – the white players threatened to strike if he was allowed to continue playing. As a result, no more black athletes were hired because they allegedly posed a "risk" of unrest and strikes. This was ensured by an agreement between the owners of teams that played in Major League Baseball (MLB).
It hasn't changed in a long time. League boss Kenesaw Mountain Landis rejected all integration proposals. So it was after his death in 1944 before the Major League reopened. Branch Rickey, general manager of the Brooklyn Dodgers, was the first to think of desegregating professional baseball. Rickey wanted to sign players from the "Negro League" because black players were cheap and good. The "Negro Leagues" were born in response to being kicked out of MLB.
Rickey found Jack Roosevelt Robinson and signed him. But he knew it wouldn't be easy. Rickey was pretty much alone with his plan, with no team owners, referees or reporters on his or Robinson's side.
"We can only win if we can convince the world that you are an outstanding player and a gentleman," Rickey told his player. When asked if he wanted a black player who was afraid to fight back, he replied, "I need a player who has the courage not to fight back right now."
Almost fifty years had passed since Fleetwood Walker was deported before a black man, Jackie Robinson, was allowed to play an MLB game again. Robinson previously played for the Kansas City Monarchs in the Negro Leagues and a year in Montreal.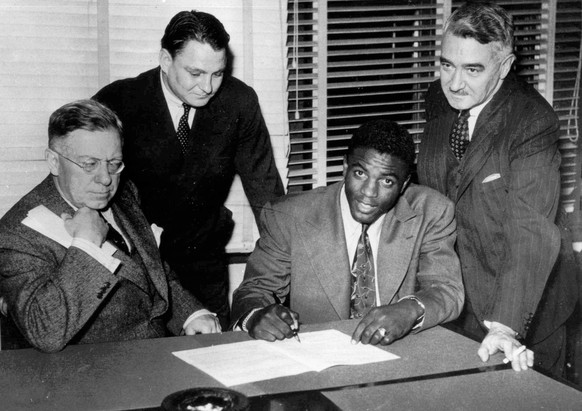 Branch Rickey (2nd from left) and Jackie Robinson sign the contract.Photo: Keystone
On April 15, 1947, the time had come. In the Brooklyn Dodgers' game against the Boston Braves, 28-year-old Jackie Robinson became the first black man to debut in Major League Baseball since Moses Fleetwood Walker.
"I don't care if the guy is yellow or black or if he has stripes like a bloody zebra. I'm the manager of the team and I say he plays."
Team leader Leo Durocher
It almost didn't happen, as Robinson later recounts. Dixie Walker, also a Dodger, started a petition among her players to kick Robinson to the team. Walker had support from a few colleagues, but manager Leo Durocher and shortstop Pee Wee Reese stopped it and the historic debut was made. The Dodgers won the game 5-3, thanks in part to a run by the legendary number 42 rookie.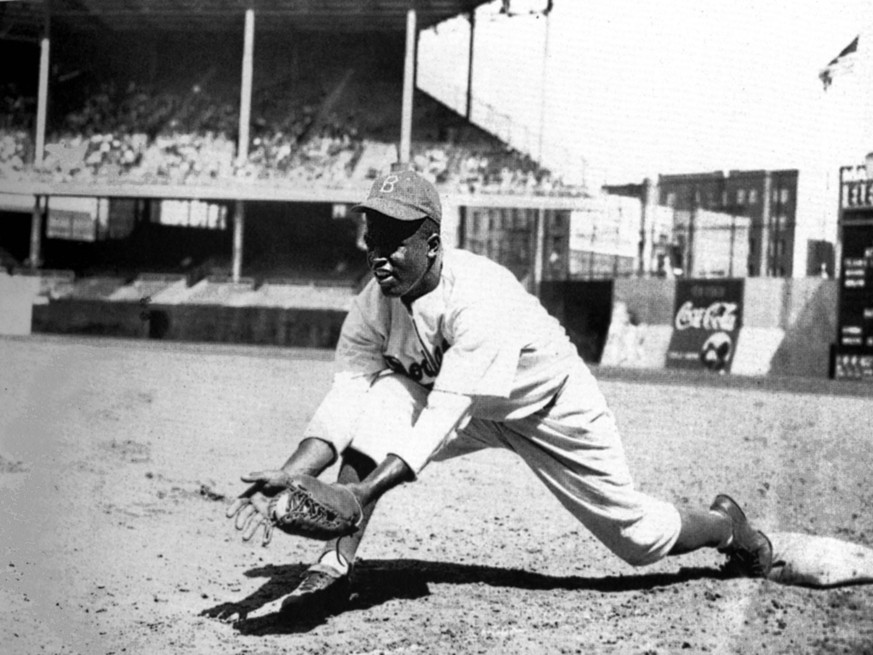 Jackie Robinson at a Brooklyn Dodgers game in 1948.Photo: IMAGO / Icon SMI
The trail didn't end there. As expected from Branch Rickey, his players faced obstacles. Fans verbally abused him and threw objects at him. Dixie Walker and her supporters did not speak to him and even insulted him by smuggling a razor blade into his shoe. Opponents deliberately threw the ball at his body, tried to injure him and threatened to hit him if Robinson was allowed to continue playing in the MLB. This time, however, the league leadership around new commissioner Happy Chandler defended the player against racist hostilities.
The baseball pioneer's path was also difficult outside the stadiums. The United States was still characterized by racial segregation. Robinson was not allowed to sleep in the same hotels as his teammates, and some bus drivers refused to let him drive. He was also a popular target in the Ku Klux Klan. Racists threatened him and surrounded his house several times.
But Robinson did not give up and his popularity continued to grow. He soon found players on the team who supported him and stood demonstratively by his side as spectators threw objects at Robinson. Blacks came from all over the country to see him play, and he became a symbol of civil rights activists.
On the field, Jackie Robinson impressed in his first season. He was voted the Rookie of the Year in 1947 with a league-best 27 stolen bases and a .297 batting average. The Dodgers even made it to the World Series, the MLB Finals, where they lost to cross-town rivals the New York Yankees. Robinson was able to celebrate several other personal awards. He was named a six-time All-Star and MVP of the 1949 season.
"What we have achieved is something great that will last forever."
Jackie Robinson
In 1955, he and the Brooklyn Dodgers got to celebrate a title after getting revenge against the Yankees. Robinson was also named Finals MVP. A year later, at the age of 37, he ended his career. He became the first black man in baseball's Hall of Fame, and his number 42 will never be worn by the Dodgers in his honor.
On October 24, 1972, Robinson died of a heart attack. Since 1997, 50 years after his debut, 42 has not been shared in any league. To this day, Jack Roosevelt Robinson is one of the greatest icons of American sports. The movie "42" from 2013 shows his story. Hundreds of people still see his #42 jersey at a Dodgers game, which has since moved to Los Angeles.
All of this is part of the legacy of the great Jackie Robinson who, despite the hostility, abuse and attacks, never gave up and changed his sport forever.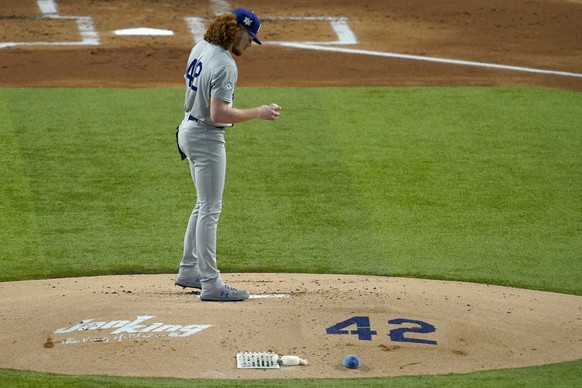 At a Dodgers game, number 42 is honored on the mound and by the players. Photo: Keystone
Forever unforgettable! These athletes are statues
This is how teamwork works: baseball fans save a lost hat
Video: srf
You may also be interested in:
Roger Federer says it himself in his farewell message: He will continue to play tennis and continue in sports. There are many options for the soon-to-retire superstar.
Roger Federer is not Serena Williams, Switzerland is not America. A simple message on Instagram should have been enough to announce the end of a unique career. However, he will not completely disappear from the scene after next week's final race at the Laver Cup in London.