As reported by Thun Hunters baseball club, the players were able to turn the tables after a weak start and won the match clearly.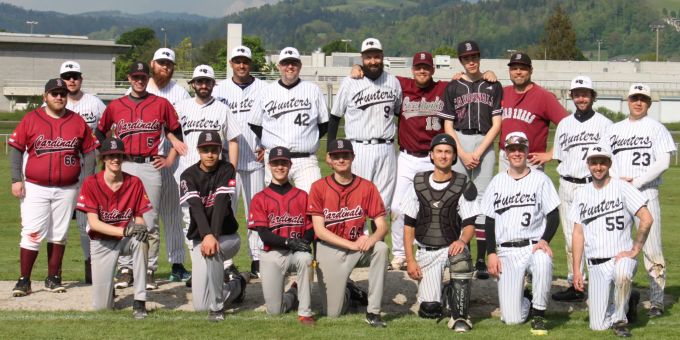 In fact Thun Hunters put on a really good performance on Sunday 3rd July 2022 in bright sunshine at Allmend. Only one inning went wrong and cost them the win in the first game.
Once again the Bern Cardinals visited Thun with one of their two Premier League teams. There were two games on Sunday's program and Allmend's field was ready. Hunters were also ready and started the game well and focused.
Up until the sixth inning, everything was very even and progress was fast. But then there was a temporary collapse in defence, with a number of small errors and sloppiness which the Bernese were able to mercilessly exploit. They scored five runs to take an 11-7 lead. The Hunters players caught themselves, but unfortunately there was not enough time to turn the game around.
The Hunters didn't give up
After the lunch break, the second game started and immediately noticed that Hunters wanted to recuperate. They started like firemen in the first set and almost drove the new feeders from Bern to despair. After three outs and about an hour, there were 12 runs on the leaderboard.
The Cards never recovered from this miserable start and barely got on base with their heads hanging. But their opponents had tasted blood and added runs in each inning until finally it was 29-2 to Thun after four innings. A fantastic success that should not be overestimated.
More on the topic:
Firefighters Union