content
A retailer in Zurich is selling products with aggressive messages to a scene that is becoming increasingly violent.
Printed T-shirts, hoodies, flip-flops, lighters: the online store's product selection is wide and seems harmless at first. When you look more closely, you will notice recurring motifs: the numbers 1312, for example on white socks. This is the code for the position of the letters in the alphabet, i.e. ACAB. The meaning behind it: "All cops are bastards".
T-shirts with prints like "All of Zurich hates the Police" are great for this, also available in Bern. Anger as a business model, it's an impression, the longer you click on the offer. This also includes boxing gloves, balaclava, shin guards or so-called "tactical gloves". And a baseball bat. You might see it as a piece of sporting equipment – however: the baseball bat is also marked with "1312", "All Cops Are Bastard".
"ACAB," you can see it sprayed on walls, on stickers on street lamps, tattooed on arms – a leitmotif of the violent left-wing extremist scene, as longtime Zurich city police and scene expert Andreas Widmer describes in his book. "Scheissbullen".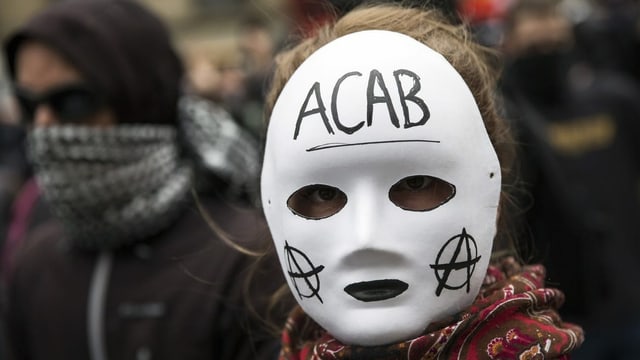 Shop owner: "Policemen are not a minority worth protecting"
The store sells international brands and also has a German website. The Swiss equivalent is located in Zurich. The owner responds to inquiries in writing. "Motives and abbreviations" should direct "a focus on serious social and structural problems". Too little attention is paid to police violence, but it also occurs regularly in Switzerland, which is why the owner writes: "Police officers are not a minority that deserves protection." On the contrary: "You can and must be criticized!" It reads in the store's statement.
The words "Young, brutal, radical left" are emblazoned on a sticker sold by the store. For some, such sayings may be mere provocation or part of the lifestyle – but for others, they seem to be a guiding principle. Recent cases prove it. For example, Switzerland News reports on a hate campaign against an employee of the State Secretariat responsible for immigration.
The perpetrators of the acts are still unclear
The perpetrators of the actions have not yet been identified, but words seem to be followed by actions, as the campaign directed against women began with a petition in far-left circles.
Direct attacks, says extremism researcher Dirk Baier of ZHAW to 10vor10, are a new dimension in left-wing violence. "In the past, we've known more mass movements by left-wing extremists, large demonstrations that led to a lot of violence, mostly against the police, or property damage, which seems to be changing a little bit, away from these mass movements towards individuals, targeted attacks, there is a change."
The left's willingness to use violence is increasing
open the boxclose the box
The campaign against the SEM worker fits the trend of increasing violence in radical leftist circles. Violent incidents had already increased from 2018 to 2019, as federal intelligence agency statistics showed.
Official figures for 2020 are not yet available, but according to research by 10vor10, Swiss security officials still rate the possibility of violence as high. The focus is on actions against the far-right with the keyword "Antifa", anti-fascism. People considered far-right would be publicly investigated and deported, but physical injuries would also be accepted. The cycle of violence is feared. Because the extreme right can react violently. Clashes at demonstrations, for example, are a growing risk, according to security circles.